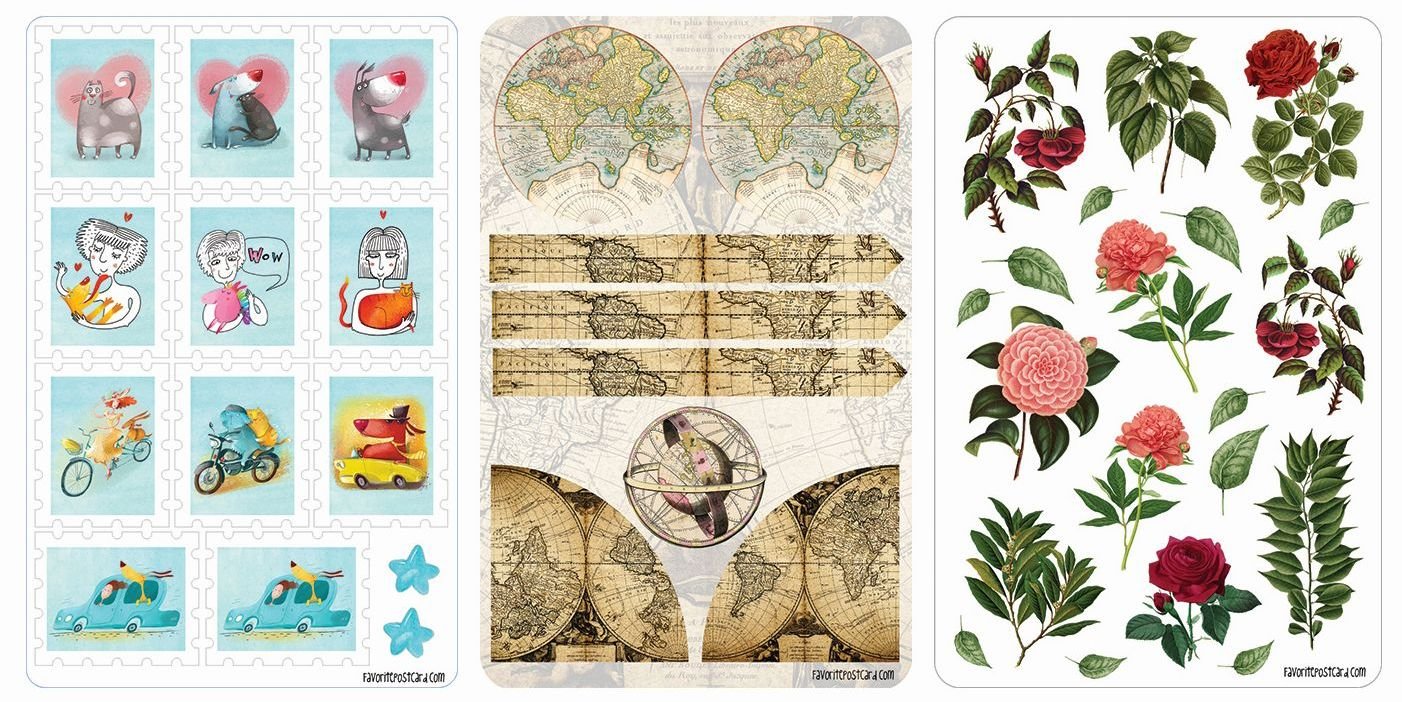 In a previous post, I introduced the postcards you can buy in this shop to send to friends, swap, present, or use in the Postcrossing community. Now I will tell you about a variety of stickers. I started to create stickers in the Autumn of 2021. Now I can offer you funny sticker sheets, beautiful vinyl stickers, cute stickers for Postcrossing, sets, and labels.
Let me introduce all types of this product range.
Sticker sheets – funny, nostalgic, colorful, and for all occasions
What is a sticker sheet? A sticker sheet is a page with several peelable stickers. A single theme of different cartoons often unites such a sticker sheet. Each sticker can vary in size and shape.
Favoritepostcard.com sells dozens of different sticker sheets. The most popular ones are with mail and books themes. Are you curious about what other topics you can buy? Here are the TOP 10 themes by popularity:
Mail sticker sheets (Mailboxes, envelopes, letter writing, etc.);
Autumn sticker sheets (Autumn leaves, cozy moments, hygge, etc.);
Books sticker sheets (readers, books, literature quotes);
Christmas sticker sheets (various styles!);
Sticker sheets with flowers;
Weather sticker sheets;
Cats sticker sheets;
Owls sticker sheets;
Alice in Wonderland sticker sheet;
Traveling theme sticker sheet.
How to use sticker sheets? A lot of ideas you can find on Pinterest or Instagram. But the main answer to a question is – everywhere! Just use your imagination! The most popular uses for sticker sheets are journaling, letters, and postcard decorating. Also, you can use them to decorate your notebooks and laptops. And you should know that a lot of children love stickers too!
Vinyl stickers – UV and water-resistant pictures
What is the vinyl sticker? They are made of highly durable vinyl. Vinyl is much stronger than paper and cannot be torn off easily. Vinyl stickers can last between 2 and 10 years, depending on where they're applied.
My vinyl stickers are laminated with glossy UV-resistant laminate. They are waterproof, but I don't recommend washing stickers in the dishwasher.
How to use vinyl stickers? They are perfect for outdoors and indoors. Decorate your daily planners, bullet journals, computers, cars, campers, motorcycles, etc. Choose from a wide variety of themes: retro vibes, coffee topics, camping, traveling, and romantic themes. Also, you can always leave a request, and I will try to make more exciting products in the future.
Sticker sets – items for Postcrossing, labels
In addition to sticker sheets and vinyl stickers, I also invite you to look around the "Other stickers" category. Here you will find various exciting products. Shop's bestseller – stickers for Postcrossing!
These products are trendy among postcrossers, and because of the limited quantity, I recommend not to think twice! Stickers look like small labels, where you can write postcard IDs and dates and mark the weather. They help not to forget the most important thing – the ID.
Also, I offer funny sticker sets and labels, which you can stick on the envelope and write the address, or in another way.
I am happy to see how you use the stickers I have created. Don't forget to tag me on social media and show your creative ways of usage.